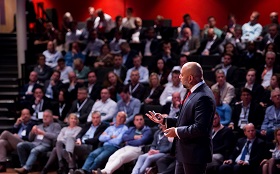 ---
Dynamics Experience 2018
Date: November 14th 2018
Location: Spant! Bussum, The Netherlands
CraniumConnect understands that executives are looking for new ways to interact with like-minded people, acquire objectified and relevant knowledge and attend curated meetings. On Wednesday, November 14th, the eleventh edition of Dynamics Experience takes place at Spant! in Bussum, the Netherlands. Dynamics Experience is the leading Microsoft business applications conference for executives who want to be inspired by Microsoft's most successful customers, digital thought leaders and their peers; executives who are serious about building a future-proof digital business.
Industry Leaders & Visionaries
In addition to an inspirational keynote by a yet-to-announce visionary speaker, the conference provides over 20 sessions on tactical and strategical topics within the theme 'The Business Value of Digital Transformation'. Attendees may expect masterclasses, round tables and customer stories. All sessions are carefully selected and curated to ensure relevance for all executives attending the conference. Besides the content, the community that executives will meet at the conference is unique in its kind because it solely exists of executives that intrinsically understand where they are coming from or are heading towards, which business problems they are facing, how to manage stakeholders and drive the digital agenda.
How to Register?
In order to attend this conference, pre-registration is required. The entrance fee is €495,- per person (excl. service fee & VAT). Members of CraniumConnect are invited to attend this conference for free.
Need more convincing?
Visit the website to stay up-to-date on the latest Dynamics Experience news and speaker announcements.
---