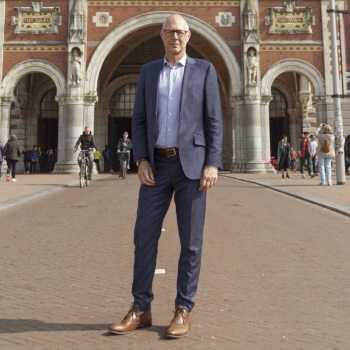 Highlights | Week 5
Hi,
Each week this year I'm sharing highlights to keep you up-to-date with the progress of CraniumConnect, DynamicsHUB and the other projects I'm working on. Check out my most triggering activities, conversations, news and developments which inspired me or just caught my attention!
1-on-1 interview with Rob Hendriks (Rijksmuseum)
Last year I noticed that in my conversations with our members there still is a growing demand for short inspiring customer stories. That is why we started our 1-on-1 interview format series where customers share their digital business stories with me.
I am pleased to share my first 1-on-1 interview with one of our motivating committed members, Rob Hendriks Head of IT at Rijksmuseum. An impressive and eye-opening story was shared by Rob on how the Rijksmuseum is innovating with digital technology. We talked about how digital transformation is taking place in their museum – operating in a conservative industry. And even more important, what is the actual business value of digital transformation for the Rijksmuseum? Click here to read the full article
Promising Conversations
It was a pleasure talking to Jan Koen, CIO at Deen. We talked about the importance of digital innovation in the retail industry. Incumbents need to step up their game to maintain their industry leadership. He reflected on his digital journey and the importance of designing a digital architecture first and utilising business requirements and processes as the main driver. A strong digital blueprint and architecture serve as a beacon to make sure you follow your digital roadmap.
There was so much more to talk about, especially on the topic of the future of retail. For peers in the retail industry, I am happy to announce that Jan has agreed to share his past and present experience on his comprehensive digital journey and his views on the future on May 15th.
This week I also have been talking with end-customers on their resourcing (digital professionals) and PMO strategy. More often end-customers are inclined to invest in their talent pool or work with freelance professionals, as opposed to working with vendor partners. End-customers also feel that implementation partners need to invest in business and industry skills as well. This is an interesting phenomenon that we will investigate in the coming months.
Visit EventSummit @AHOY Rotterdam
Yesterday my team and I visited the EventSummit, the largest platform for the entire event industry. Currently, many events are coming up for our members and partners, where the overall experience is always our main focus. Visiting this event, was very effective to get inspired on how to design those event experiences for our partners and members.
Striking News
The most striking news to me was: https://www.craniumconnect.com/member-news/marketing-in-the-age-of-machine-learning/
Events
I am happy to announce that also this year we will host Dynamics Experience! On Wednesday, November 20th our most significant event of the year will take place. During the upcoming months, we will get started with the preparations in order to create a valuable program for our members and partners. In addition, I can already announce that this year we will add a new dimension to this event. More information will follow!
On Wednesday, May 15th we will host a retail event for customers only. Jan Koen, CIO at Deen and Frank Scholte, CIO at Prominent are the leading speakers for this event. Topics that will be discussed: Digital Transformation, Customer Experience and Loyality, and impact of AI in the shop.
Are you interested to speak and/or want to attend our retail event on May 15th, please send an email to info@craniumconnect.com

Community developments
Last week I already announced our first LAB, 'EducationLAB'. This week a new positive development has taken place with regard to the realization of this LAB. Two more enthusiastic participants have been added to the Board! Next to Simon Thunnissen (University of Groningen), also Jorg Geurts (Radboud University ) and Rob Driessen (HAN University of Applied Science) are appointed as board members.
Are you interested and/or want to attend the kick-off meeting on February 13th. Please send an email to info@craniumconnect.com
Enjoy your weekend!
Warm regards,
Jay Ramsanjhal