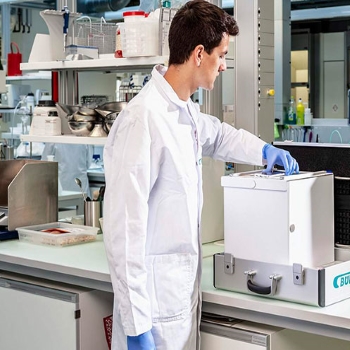 1-on-1 interview with Stuart Bashford | Bühler Group is solving world's food problem as a digital innovator

To solve global issues, you have to collaborate across the supply chain to make a difference
BY OUR CHAIRMAN
JAY RAMSANJHAL
AMSTERDAM, 12-04-2019 Transformations in and outside the digital arena are driving organisations to adapt to new realities, cultivate digital innovation and reassess strategic directions and partnerships. Business as usual is no longer an option, because this type of change means planning for long-term actions while staying agile in decision making. But how do you drive revenue with digital services? How do you use data, analytics and Blockchain to create value for customers? Why do partnerships matter? In this 1-on-1 interview I am talking with Stuart Bashford, Digital Officer at Bühler Group where he sheds light on these questions, his views on digital innovation and how economic, societal and environmental changes pushed their envelope in leadership: maintaining their position as the market leader and also turning into a digital leader.
This 1-on-1 interview took place at the Hannover Messe, Europe's largest industry hotspot hosting more than 250.000 people. One of the striking showcases at the Microsoft booth is Bühler. One of the world's most remarkable company you probably never heard of and yet they're responsible for feeding 2 billion people each day on the planet with their equipment. The Bühler Group is a family-owned business with a rich history of 159 years and leading supplier of technology in the food, feed and materials processing industry. 80% of their revenue comes from the food processing industry, and 20% comes from advanced materials, mainly for the automotive industry. Bühler stands for an extremely challenging business case as the population is expected to increase from 7 to over 9 billion by 2050; feeding 2 billion more people healthy and nutritious food in just thirty years. Digitalisation allows Bühler to deliver their corporate sustainability targets; 30% less waste and energy in their customers' value chains.
I heard the collaboration with Microsoft initially started not so long ago with 600 hackers
"I remember exactly where it started, just two years ago at Europe's biggest hackathon in Zurich. We did a pitch for 600 hackers, a project for them to work on. A woman from Microsoft came up to me and said, 'that's really cool, but I never heard of you, tell me more', so we did and provided her with more information on Bühler and our impact on the global population. After that, we started talking to more senior executives at Microsoft, and almost a year later we launched our Bühler Insights platform on Microsoft Azure, which Satya Nadella mentioned in his keynote at the Microsoft Ignite conference in Orlando."
In my conversations with your peers, I notice that family-owned businesses aren't always avid at adopting a digital mindset and certainly not envision themselves as digital leaders
"Our owners saw the need, the opportunity and the threat and they've committed to it. But they also recognised that it's not a quick win. Well, we've had some rapid success in a year. But that's very unusual, and it's going to take a prolonged effort; developing the technology that's the easy bit, developing the market is the hard bit. We've got quite a long way to go in the food and agriculture industry compared to the semiconductor or automotive sector. I would say the family has helped us massively because they have a long-term focus and hold us accountable for our sustainability- as much as they do for the profit targets. The support and approach of the family have been very beneficial, but at the same time, we're a business. It's not like we've got an open chequebook, and you need to have the courage to follow-through with digital. But we also need to be careful at what we do, as we have far more ideas than we have resources to do it with and it's not always clear what the returns are going to be. Luckily, from the very beginning, we did not have to convince our owners, board of directors or the executive board to adopt a digital mindset. The reason is that we're already the number one market leader and if we want to lead, we have to go digital and also be a digital leader in our industry."
What is the business value for Bühler in the partnership with Microsoft?
"To solve global issues, you have to collaborate across the supply chain to make a difference, and if you're going to do that, then you need to have a platform and a partner that can scale with your ambition. You need to be very open and honest about your core expertise and what you're good at and what not, then you fill in the gaps with partners. At the moment we have the majority of the grain market that goes through our platform and with Microsoft we have a technology leader that allows us to scale on our cloud requirements. The partnership also provides us acceleration, clarity of the technical Azure roadmap and the IoT suite. This is crazy for me, but we actually had influence over where their roadmap was going. We worked so closely together that both our development teams were fixing problems in a matter of days and delivering products just the way we envisioned. Four years ago, we wouldn't even think this kind of collaboration was possible, the partnership with Microsoft helped us significantly to reduce our time to market – that is where we fill the gap and allows us to be the leader in our industry."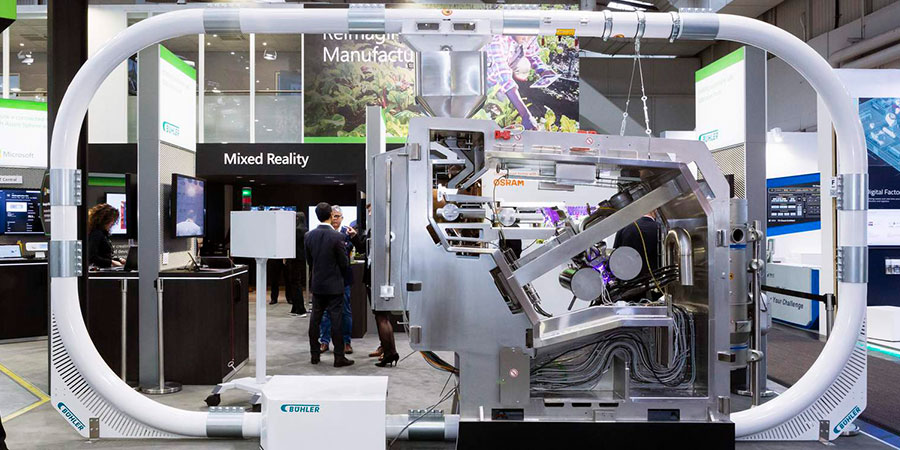 Do you see yourself as a technology company or a digital technology company?
"We've been in existence for 159 years, and we've always been a technology company. We are experts at what we do, and our focus has always been to try and deliver the best possible service to our customers. If we can do that with a machine, we do that with a machine. If we can augment that machine with some additional digital services that provide additional benefits, then that's where the digital services come in: the ability to deliver value to our customers from the data analytics that we get combined with both our and our customers' process knowledge. Even though we're going through a digital transformation and we're doing well at that, it doesn't mean that becoming digital, means stop being physical. We only plan to augment our traditional business with digital services. Although it's a significant commitment and we're consuming a considerable amount of resources, it remains a strategic direction for the next mid to long term for our company."
Data analytics and machine learning are now key elements in your digital practice. Was this part of your digital roadmap and how does this affect your customers?
"No, this was driven by our roadmap. There are a couple of things you need to recognise when you want to become digital. First, you need to be able to move data from machines to the cloud and with some edge in the middle. Then you need to be able to deal with analytics, and that's where we bring in data science and artificial intelligence. We have set up our internal group of data scientists, working full time for the Bühler Group and they work on a variety of platforms. We also have a collaboration with the Swiss Data Science Center (SDSC); they help us to have a deeper understanding of Data Science and Artificial Intelligence.
For one of our customers, we use the Bühler Insights platform to offer a connected service to monitor some parameters on a machine that is a dryer for the pet food industry. This digital service helped them to increase their yield $300.000 while reducing their energy consumption and saving $30.000. We thought we already did a good job, but then our data scientists together with SDSC had a look at the same data and applied a more sophisticated algorithm and got roughly a 30% increase in productivity. Data Science just made our customer $100.000 a year. To me, that's crazy, and this is only one example. But you need to collaborate to make this happen."
It appears that you are a leader with Blockchain, what was the initial business case and which challenges are there?
"Everyone is working on a Blockchain solution nowadays, thinking I need a Blockchain solution instead of what problem are we trying to solve. And then maybe the answer might be Blockchain. One in ten people gets sick from food poisoning every year, costing the industry billions of dollars every year. The food industry is well known to have a fragmented and complex supply chain, and when it comes to food production, there's little trust from consumers. The food supply chain is a perfect use case, and we've created a food safety solution that incorporates Blockchain to cut food poisoning and increase production efficiency. It's actually a food safety certification that is going onto the Blockchain. We now know which grain went through which machine. By using IoT data that goes through our Bühler Insights platform into the cloud, and with the seamless link into the Blockchain we also know if the food safety step was carried out. The Azure Blockchain Workbench platform allows us to create and deploy Blockchain applications quickly and easily and utilise smart contract and distributed ledger technology.
We've got a pilot running in the U.K. with one of our customers. This is an example where technology is the easy bit, or easier than all of the challenges of introducing this Blockchain system and embedding it in a country's supply chain. If you take the food chain; you've got the farmers at one end who basically can't afford to pay any more for that service, and you've got the consumer at the other end who may or may not spend more money for sustainable and ethically sourced food. Because there are so many stakeholders, you just can't magically introduce such a system from one day to the next; it means you need to have a benefit for each person along the supply chain, that's where the real challenge is."
I often hear that having an abundant amount of data is an excellent potential for new business models. What's your take on this?
"Well, it does open up the opportunity for new business models but having lots of data doesn't mean you can do business. There are many steps in between those points in which you have to join the dots before the business comes. We've been through this, and yes we are generating recurring revenue from digital services. All our successful digital services, however, are the far simpler ones. Capture 5 to 10 parameters from a particular process, monitor them and return that information to the customer in a usable way and add in the fact that where we're essentially using our process knowledge to solve a problem. That's the point, to create value and to make it easy for the consumer to consume; otherwise, they can do it themselves. The problem in the digital world is that it's so easy to create cool things and we all get carried away with it, while the customer thinks: 'it looks nice, but I'm not going to pay you for it.' There are a lot of similarities between the digital and the physical world. Ultimately, if your product doesn't solve a problem, you will not sell it, and it doesn't matter if it's a physical product or a digital service."
Which book is on your bedside table?
"The Innovator's Dilemma: The Revolutionary Book That Will Change the Way You Do Business
By Clayton Christensen"
For more information about Bühler Group, please visit www.buhlergroup.com