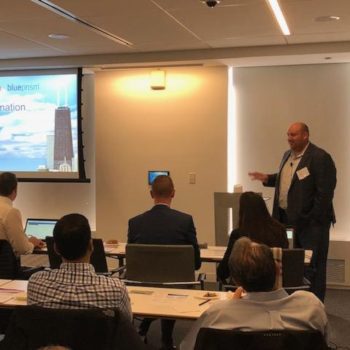 Intelligent automation beginning to drive technology and reshape workforces, KPMG leaders explain
Technology is a fact of life for businesses of every size. But the fact is, it's scary. Change is hard and inherently risky, and technology investments are complicated. If this sounds a bit like investing, there's good reason: business technology is rarely a monolithic purchase anymore. It's more nuanced and strategic. "Technology is a portfolio play," says Todd Lohr, a principal in technology enablement and automation at professional services firm KPMG.
"Companies tend to feel the right approach is a blend of short-term and long-term technologies, and we agree," he says. "But the Intelligent Automation market and its adoption will be transformative rather than incremental, and it will cause winners and losers."
Helping companies be among the winners was the aim of the Intelligent Automation Share Forum in Chicago on Oct. 11, held by KPMG and joined by Appian, a Reston, Virginia-based cloud computing company that offers PaaS (platform as a service) technology, and BluePrism, a UK-based multinational that specializes in robotic process automation (RPA) software.
BluePrism made the argument that today's businesses operate in "industry 4.0," a seismic "digital transformation" that will rival the Industrial Revolution, mass production and computerization in its effect on commerce and personal life. Broadly, 4.0 represents the advanced ways computer technology is now employed to remove the difficult, mundane and repetitive features of modern life, and within 4.0 BluePrism includes the digital economy, the "internet of things" (the growing digital connections and communication among machines, processes, humans and animals), the digital economy, cyber intelligence and intelligent automation (IA).
The Chicago conference focused on IA for business and how it should drive technology decisions and reshape the workforce. A recurring point was that the higher purpose of IA is not to replace workers with automation but to replace tasks with automation that makes the workforce more productive, creative and collaborative – and happier. As KPMG put it in a video shown at the conference, "We don't eliminate jobs, we upgrade them."
"Our first role is educating C-level executives about tools they can provide their people, says Nathan Pratt, director, advisory services at KPMG in New York. "Once you have automated, you have a whole new look at the landscape: now you can get a lot more information and data into a role and effectively reshape that role."
We all experience IA in our lives already, through devices like Amazon's Alexa that turn our voice commands into digital or concrete actions, like finding a restaurant or turning off lights, or through Uber's algorithms that construct customer trips based on locations, traffic and customer preferences with very little human effort. The online chatbot that helps you reset your internet router without talking to – or even interacting with – an actual human, is another.
But the KPMG conference went well beyond the current state of the technology to discuss the fast-moving opportunities and challenges of IA. For instance, as businesses and tech vendors get a better handle on troves of personal data and the technology to sort and analyze it with little human help, we can see call centers becoming far more consultative and less mired in solving small problems. "Call centers are historically not ideal: there's a lot of turnover, it's hard for workers and callers to get all the information they need," says Pratt. "So how do we involve IA technology to present more insightful, useful information to the agent, and even present information based on the technology's perception of a caller's needs and state of mind?
This scenario, which Pratt calls "a transparent blend of human and solutions support," is an evolutionary step beyond what we're already familiar with. Modern search engines can use your word choices, your search history and other personal details you've given it to create more valuable results. And the chatbot mentioned above, a form of "guided content discovery," is a bit more interactive. But an AI-fueled call center can become a profit center, especially given that American companies spent $1.3 trillion to field 265 billion calls each year. And it can take a whopping 38 hours to resolve a "tier 1" or very important query.
"A call to customer support about a high credit card interest rate could result immediately in advice on which stores give more rewards points, or consolidation strategies that can save money," Pratt says. "A collections agent can now become an advocate, offering help that a consumer might have had to go outside to pay for before."
Similarly, many of the time-consuming tasks required in buying a house and setting up utilities, services and address changes can become even more centralized and automatic than they already are. "And at work, digital assistants will free you from many reporting tasks or the need to respond personally to certain kinds of emails."
These examples involve IA for customer-facing functions. But IA can be so conceptually powerful that it can be applied wherever enterprises seek to automate human tasks. BluePrism specializes in enabling companies to create new applications more quickly, without intensive commitments from the IT department. Appian's platform integrates business process management, artificial intelligence, robotic process automation, data and integrations into intelligent automation.
As advanced as this sounds, "It's still fairly early days in IA," Lohr says. For the most part companies are still making incremental investments. The vast technology landscape and pace of change are such that many organizations are hesitant to go all-in with a universal strategy. This plays to the portfolio approach to disruption. Companies should invest in a number of different technologies across their business. One of the biggest challenges will be to orchestrate the series of investments, with several organizations naming Digital Officers to guide the disruption.
Regardless of approach, companies need to start charting their course today. The impact of Intelligent Automation will be far-reaching across all businesses and industries, disrupting both business and operating models.