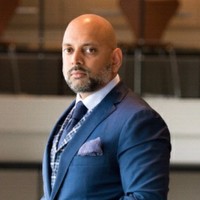 What's the future of digital business?
Just one and a half week after CraniumConnect's Executive Programme 2018 in Dublin, I am still overwhelmed with Thank You notes. Notes of gratitude and appreciation of being part of CraniumConnect's Executive Programme and Executive Community. Our time in Dublin was energizing and refreshing at the same time. In this short personal reflection, you will find out what an international engineering company like Royal HaskoningDHV, Dublin's majestic Trinity College Library and the pride of the Netherlands, Rijksmuseum have in common.
Royal HaskoningDHV | From physical society to digital society
This year's key topic was "The future of digital business". Without any doubt, many have come to the belief that the future of business is digital. Our first keynote speaker was Michel de Koning, Associate Director at Royal HaskoningDHV, he shared his vision of how their company is evolving beyond their initial domain, the physical society or the built environment. Innovation and digital are the key elements in the strategy of Royal HaskoningDHV, and Michel believes that the next step in their evolution is to connect physical society with digital society. To build a digital ecosystem or system of systems, where on the intersection of connecting physical society with digital solutions will accelerate innovation and lead to solutions no one ever thought of. The strategy of connecting physical society with digital society is by converging two different routes of transformation into one. Digital engineering is changing the way of working to digital and smart solutions are paving the way for digital services and new business models, while combing data and knowledge from different sources and domains will drive innovation and digital leadership. It was truly inspiring to see how an engineering company is taking the lead and showing us how they are transforming into a digital company, but Michel also showed us the importance of putting people first and how co-creation within the ecosystem is leading to new products, solutions, and services. One of the examples of how co-creation has led to creating new products and services is Royal HaskoningDHV's internationally acclaimed wastewater treatment technology, Nereda®. The day after our conference I was invited to visit the world's largest Nereda® wastewater treatment project in Dublin. Just 5 kilometers out of the city center I was a witness of seeing how 40% of Ireland's wastewater is treated and how innovation, technology and effective use of data converge in a multi-story facility.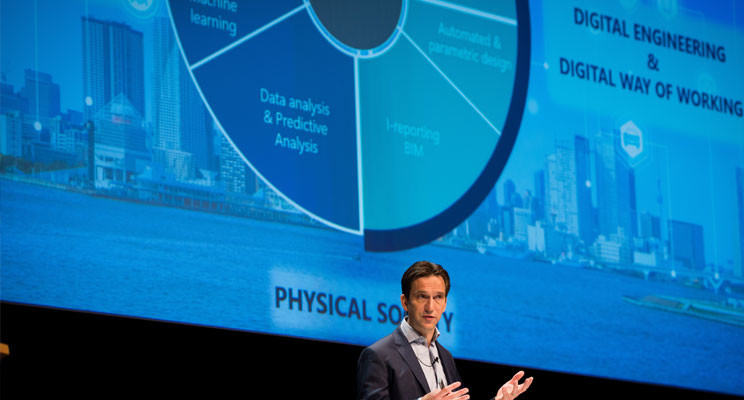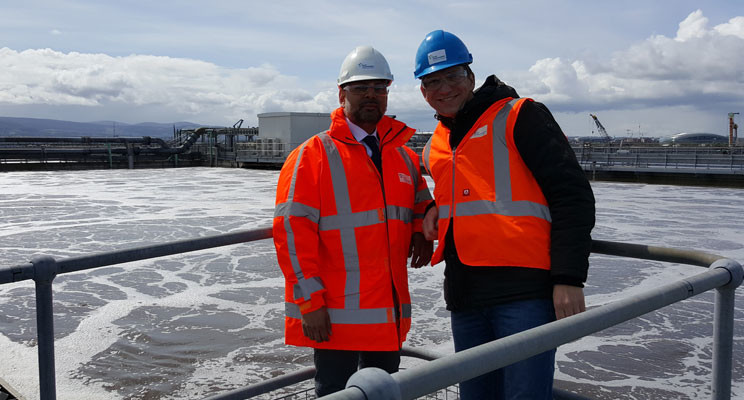 Rijksmuseum | Staying ahead of the curve
During the rest of the day in the beautiful Marker Hotel, our guests had the pleasure to attend Executive Tables and Masterclasses, talk to the media and also connect and interact with each other. At CraniumConnect we believe that connections are our community, I had the pleasure to connect Trinity College Library with Rijksmuseum. I asked Rob Hendriks, CIO at Rijksmuseum to share his story in an Executive Table on the transformation of The Rijksmuseum and what they did to stay ahead of the curve. In this session, attendees found out that vision, leadership, and embracing an early-adopter mindset gave Rijksmuseum a head start in their digital transformation. Surprisingly, the museum and collection are not at the core, but a customer-first and centric strategy put Rijksmuseum on top of their game. This approach has led to diversification and creation of new business models, which is fairly uncommon in their industry. Rob explained that they are part of the ecosystem and are a key-facilitator in creating optimal customer experiences. Rijksmuseum is one of the six museums in the world to carry a Michelin-star restaurant. Digital plays an important role in staying ahead of the curve, but not without throw-backs. Resilience, adaptability, and foresight that things might go as unplanned are traits that set Rijksmuseum apart. Utilizing digital in such a way that leads to better and innovative customer experiences. Together with Philips, Rijksmuseum is improving the MRI experience of patients with the power of art and music. I could write a whole article on this session, Rob and our Executive Community Advisor Paul Ossewold, moderating the Executive Table, were both on fire and the audience enjoyed every piece of it.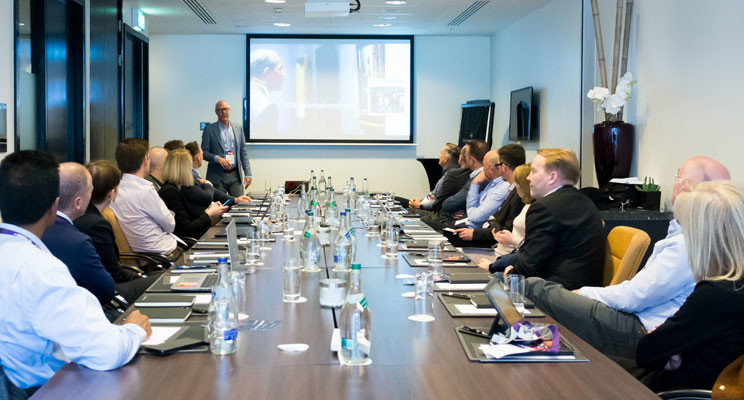 Trinity College Library | Fagel Collection
A couple of months ago in the office of the Dutch Ambassador, Peter Kok in Dublin, we talked about the Fagel collection. An impressive collection of 20.000 books that were collected by several generations of the Dutch Fagel family. The books range in the date from 1460 to 1799 and consist of an abundant ensemble of Dutch, French and English works on politics, religion, economics, sciences, natural history, and travel. I was invited to join the Ambassador to visit Trinity College Library in which I had the privilege to meet Associate Director, Eileen Punch – learn more about the Fabel collection of books. The feeling that you get as a human being to see works that have been published more than 3 centuries ago, is indescribable. The astonishment of the knowledge written down for future generations. the crisp quality handwork, the level of detail and the impeccable state of the material and humbleness to behold the beauty of information to be shared with the world. The large majority of the collection has not been made public yet as there is a pressing need for resources to digitize the works. During the Executive Programme, we have made connections with organizations who might help and we also did an interview with Laura Shanahan, Head of Research Collections to create more awareness of the importance to make this invaluable collection digital. As CraniumConnect we have the mission future-proofing organizations with digital technology as a strategic driver, in the case of Trinity College Library, we strive to do so with the Fagel collection. Anyone who wants to contribute, do contact me personally. Images below are by courtesy of Trinity College Library.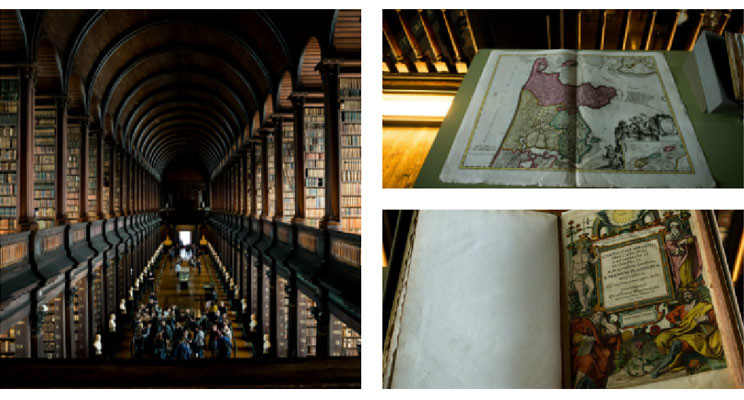 Closing thought on the Executive Programme 2018 | Dublin
What we have learned is that executives know the importance of digital, but want to know how to create a meaningful digital vision that works and execute accordingly. Without vision there is no leadership, without leadership, there is no commitment, without commitment, there is no culture for change. Establishing a digital engaged organization does not start with digital technology. It starts with acquiring insights to improve human interaction and through engaging employees with digital technology to ultimately facilitate the right interactions which lead to creating outstanding customer experiences.
The future of business is digital and the future of digital starts with a human-centered mindset infused in every cornerstone of your organization.
Executive Programme Soiree | Where connections matter
The Executive Programme Soiree is since 2013 our signature evening event for our sponsors and delegates to meet and interact in an environment where inspiration, good company, and excellent food intersect. Urban Brewing was this year's venue, handpicked for our guests who enjoyed the ambiance of a 200-year old vault with its original walls and ceiling that have been untouched for two centuries.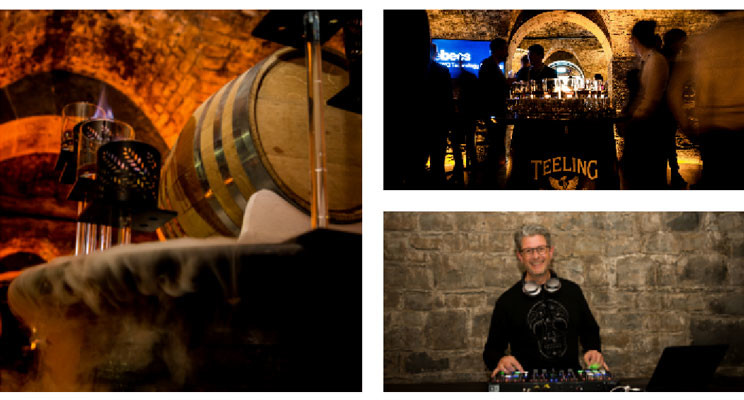 Our Next Event | Customer Success Clinic 2018 | Netherlands
In the past decades, I have learned the importance and value of heritage. Despite our global ambitions and activities, we cherish our Dutch background. The foundation of who we are today was established in 1999 in the Netherlands. The reason that we are able to set sail outside our home base, is because of the loyal support of local customers and partners over the years. I am personally still involved in our local Dutch activities for both customers, as well as partners. I look forward to welcoming you to our Customer Success Clinic on the 24th of May in Bussum. With executives from Nuon, Prominent, Kiwa, Kennr and Microsoft in our keynote programme, I am excited to hear their story on digital transformation and customer success. For more information: http://www.customersuccessclinic.nl/
About CraniumConnect
CraniumConnect (formerly DynamicsHUB) is an independent, not for profit, executive community dedicated to digital business thought-leadership and insights based excellence by helping organizations to become future-proof through utilizing digital as a strategic driver. We welcome business and digital executives from organizations who either consume or provide digital solutions, services, and leadership.
content is our commodity ● insight is our product ● connections are our community
At CraniumConnect, we recognize two significant changes that are taking place within companies with profound implications in how organizations adapt to digital technology. First, executives are more empowered to identify which profound implications digital transformation has on their company and customers. They realize that anyone who didn't adapt to digital change—e.g., AI, AR, Big Data, Blockchain, Cloud, IoT, etc,— is falling behind or don't even exist anymore. And second, that these executives are looking for new ways to interact with each other. For many, it has become a dire necessity to solidify their position in the digital driver's seat, bridge the gap internally between business and IT, realign external third-party dependencies and educate themselves with industry-driven best practices and by interacting with peers. They need to know what works and what not. For this very reason, CraniumConnect's Executive Programme was launched in 2013 in Barcelona during Microsoft Convergence EMEA, the Executive Programme is the event for Microsoft business application customers, by executives, for executives. It is the place to learn and connect with real peers, industry leaders and experts.