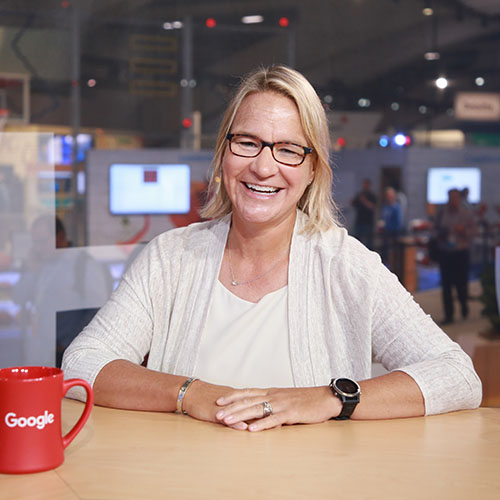 Why Google prepped two years early for GDPR and how compliance grows from here
For most modern businesses in the enterprise, data is the top priority, with security a close second. From news of undisclosed data mining on widely used platforms like Facebook to the European Union's General Data Protection Regulations, which affect any business with European operations, data security has been top of mind for businesses and consumers alike. And many organizations continue to struggle with challenges of compliance in an often unwieldy cloud computing environment.
As businesses look for guidance through the transformation, Google LLC is leveraging its strength in security to foster a sense of openness and trust in its enterprise cloud services and lead clients through this data culture shift.
"Trust starts with making sure what you expect is what you experience," said Suzanne Frey (pictured), director of security, trust, privacy and compliance at Google. "My job is to make sure that we're compliant and handle [customer] data responsibly in line with all the rules and regulations, and that we're building exceptional, simple, smart and secure products every single day across our stack."
Two years into its enterprise cloud journey, Google is finding its place among established competitors through the commercialized offerings of its "best of" services, such as secure data sharing. With Frey at the helm, the company is setting standards for trust and compliance in the cloud.
Frey spoke with John Furrier (@furrier) and Dave Vellante (@dvellante), co-hosts of theCUBE, SiliconANGLE Media's mobile live streaming studio, during the Google Cloud Next event in San Francisco.
This week, theCUBE spotlights Suzanne Frey in our Women in Tech feature.
A culture of security
Security has been ingrained in Google's DNA since the beginning, giving it an advantage in a market preoccupied with rapid modernization and compliance needs. Now, the company is streamlining its security to serve a user base struggling to manage and protect disparate platforms.
"We believe, bar none, that we are the most secure cloud out there," Frey said. "Patch Tuesdays and heterogeneous operating systems — it's a nightmare for customers. Many are waking up to realize [we're] going to take care of all of that. One operating system, all managed from the cloud."
In order to have this structured offering enterprise-ready by the time GDPR regulations went into effect in March 2018, Google started compliance preparations two years early — well ahead of the many companies racing against the deadline for non-compliance fines.
"GDPR is incredibly important legislation. We're proud to say that we were among the first to announce that compliance in the cloud," Frey said.
That regulatory adherence has not only helped Google to support customers technically but also through its enriched network. "We take on a large responsibility for maintaining relationships with the legislators and the regulators around the world. Many companies can't scale to do that. By going with Google, you know you've got a good relationship on that front," Frey said.
As the company's former policy director, Frey has a strong foundation in security at Google. Her advancement of the "One Google" initiative streamlined content use policies across the company and is aligned with its current cloud priorities of a single streamlined platform. "The fact that the data are all in one place of the cloud makes a huge difference with your posture — and your compliance posture for GDPR," she said.
Evolving best practices
Google's strong base in security and compliance fulfils a crucial business need, but companies making the move to cloud are just as concerned with the goal of finding greater flexibility and freedom. In order to balance these somewhat oppositional priorities, Frey's team is taking an active role in communicating with businesses to find custom solutions.
"Day one of any new product or feature we develop, those conversations occur. A large portion of my organization is entirely dedicated to scrutinizing and making sure it's in line with both legal commitments as well as with our customers," she said.
To align best practices across company and customers, Google provides tools, guides and new releases that bake new learnings into the tech itself. In its latest release of Google Team Drives, a collaborative file-sharing tool, the company incorporated an automated solution to the common customer pain point of removing user access to documents.
To successfully go to market with new tools and tech, the company is leveraging its online communication channels and seeking new methods for innovating in community growth. "You can see it right here at [Google Cloud] Next. This is a huge example of how we're trying to get the word out. That's super important for us to get right, and we're continuing to evolve," Frey said.
Leading by example
Google's extensive reach gives it a constant view of up-to-the-minute spam and phishing risks around the world, which Frey is leveraging into learnings for automated security tools. "Investing in machine learning and understanding how to be that security guardian for our customers in an automated fashion so that people don't have to worry about security — that's the Holy Grail right now," she said.
Through all her data security work, Frey is aiming for a cultural shift and a technical one — and she's leading by example by implementing changes within Google. "My role is to ensure that we make Google Cloud the most trusted place for user data, [and] to galvanize that not just in product and expectations, but also in the people we hire and the culture we engender," she said.
Still, relatively early in its enterprise cloud journey, Google's bedrock of engineering and personalized approach to working with customers is proving to be its key differentiators in the space. While Frey sees the work ahead in data security, she looks forward to continuing to innovate at a company with such a strong mission.
"I'm here to manage the world's information, make it universally accessible and useful and secure. That's what excites me every single day," she concluded.