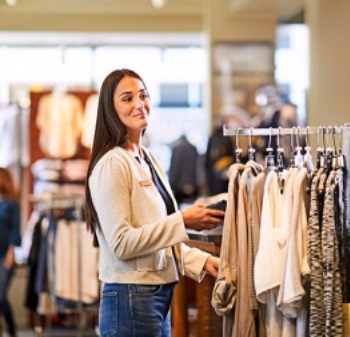 A Journey, Not a Race", How Data Security and CX are Impacting Consumer Decisions
Consumers are more aware than ever when it comes to data security and retail leaders view technological capabilities as the future of CX.
According to Zebra Technologies' latest Global Shopper Study, only 13 percent of shoppers are confident that retailers are protecting their personal data, with 73 percent reportedly craving more control over how their data is used.
"Australian consumers are demonstrating increasing levels of awareness when it comes to data security – and rightfully so," says Tom Christodoulou, ANZ Sales Director & General Manager, Zebra Technologies. "The questionable behaviours of financial institutions and social media platforms has placed great expectations on organisations when it comes to data management. The retail industry is no exception."
Christodoulou says that out of the ten industries reviewed, the retail sector is considered the least trustworthy. "If you consider the sheer amount of personal information that retail interacts with (loyalty programs, financial information, personal shopping habits etc.), this is clearly something that needs to be handled in a responsible way."
The rise in highly publicised personal data breaches over the last few years have also made Australians more aware of the risks associated with data collection. Not surprisingly, this increased awareness has come hand-in-hand with higher privacy and data handling expectations.
"From a data security perspective, I personally think that Aussie retailers were initially quite under prepared on that front. Reactions to the GDPR and the mandatory data breach notification laws, for example, were quite knee jerk and highlighted that this wasn't an area that retailers thought about extensively at that time," Christodoulou explains.
Establishing and retaining consumer trust is critical to the retail industry. In order for Australian businesses to provide truly personalised experiences, they need access to customer data – which they can only obtain if the consumer trusts the business enough to share their personal information.
"That being said, this context is actually an opportunity for retailers to step up and set themselves apart from other industries. From a macro level, the retail industry should look to implement measures that showcase to Australian consumers how data security is being managed in a responsible way. For example, two-factor authentication or transparent opt-out interactions with brands can give consumers the confidence that the necessary steps are being undertaken," he says.
The Importance of Frictionless CX
In addition to privacy concerns, the study identified frictionless shopping experiences and the push for automated checkouts as a focal point for consumers and retailers alike.
The study found that 80 percent of retail decision makers believe that new technologies are rendering traditional in-store checkouts unnecessary. However, when met with the same question, workers on the shop floor were less convinced that cashierless stores are the future, as only 49 percent of workers agreed with executive sentiments. Although, store associates did agree that tech can help improve the overall in-store experience for shoppers. Sixty-six percent said that they could provide a better in-store experience if they were equipped with tablets. This is because 42 percent of store associates lack the time and necessary training to confidently assist customers, with 33 percent saying they are knowledgeable on less than 50 percent of products.
"Australian retailers are looking to offer a more personalised and frictionless customer experience to match the type of services offered online. We're seeing this across the board in the retail industry, with the likes of Coles and Woolworths leading the charge on the automated checkout front. Loyalty and reward programs continue to gain traction, with retailers looking to leverage customer data to provide personalised experiences," Christodoulou says.
According to Christodoulou, the nature of consumer needs and retailer sentiments to emerging tech and CX requirements make the customer experience a journey, rather than a race.
"A frictionless experience may occur on the front end but involves a smooth coordination with the backend as well. The shift from legacy systems for fulfilment and logistics has been something that most retailers have prepared quite well in preparation for this shift in consumer behaviour.
"As the trend of providing a personalised and frictionless shopping experience continues, the onus is on Australian retailers leverage the latest technologies appropriately. By tapping into the right technologies, businesses can look to provide services/products in a more efficient and costly manner. This type of digital transformation is one that applies equally to the back end as well as the customer-facing side of things."
Zebra Technologies also says that consumer delivery expectations have also shifted in recent years. Sixty-two percent of shoppers reportedly prefer out-of-stock items to be ordered in-store and delivered to their homes, but only 34 percent of retailers are accommodating this desire.
Walmart is a good example of a retailer hitting the mark with this service offering, with the US-based business ensuring staff are trained and equipped with the tools they need to utilise online stock levels to meet in-store shopper needs. When a customer visits a bricks-and-mortar Walmart location, for instance, if the item they are looking for is out of stock, the retail associate can order it online for them, allowing the customer to pay at the store's checkout and opt to have their goods delivered to their chosen store location, or to their home.
Other delivery concerns identified by the solution provider revealed that just over 50 percent of retailers are currently offering free shipping and returns, despite high consumer demand for these services. At the same time, less than 25 percent of retailers providing free shipping and return services believe they are doing it well.
When it comes to providing seamless delivery options, most companies surveyed felt it would be late 2019/2020 before they could meet consumer expectations.
"From the report, it's evident that there's a push towards providing a frictionless shopping experience (especially with the decision makers). But growing consumer distrust, if left overlooked, will become a key issue," Christodoulou says.
"The very nature of a frictionless experience dictates for a high level of trust between consumer and corporation. Ultimately retailers need access to personal data to provide an elevated customer experience.
"As innovative technology becomes available for retailers, the onus is for organisations to empower staff in a responsible way. Ultimately, technology and analytical data is just like any business tool. And like any other business tool, the parameters and use cases must be handled ethically and responsibly."