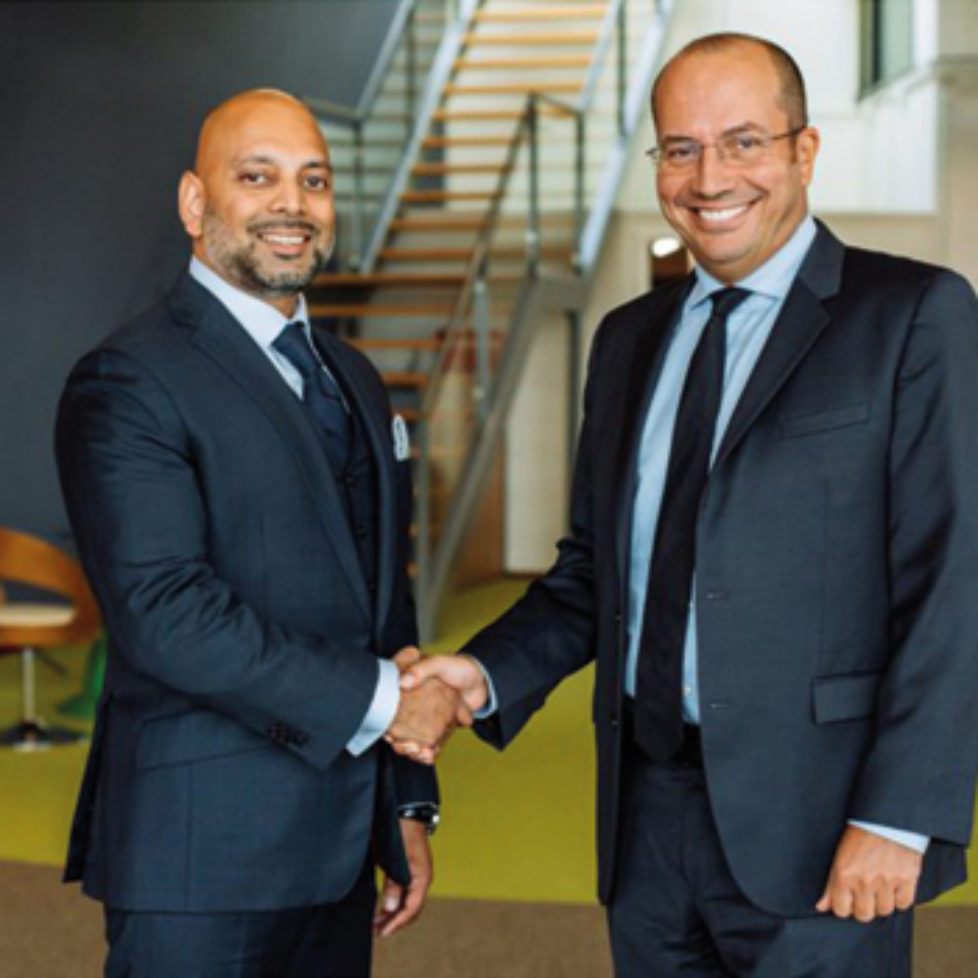 ZALTBOMMEL – "Nowadays digital transformation seems to be a magic word for business. The market for it appears to be so huge that even parties that are not truly experts can do business in digital transformation. This is alarming. Digital transformation is a process in which an organisation fully integrates digital technology into all of its activities allowing to significantly increase its performance. The challenge is to be able to transform the whole company; to rethink processes, operations, management practices and culture. The digital aspect introduces a further angle to the challenges of change management. It's much more a sociological than a technological subject. Employees can feel disoriented and outdated when confronted with all the changes and innovations. It is important to identify where there is human resistance and address this with good management practices at each stage of the curve. It's essential that all employees embrace the transformation", says Alain Conrard, CEO of the Prodware Group.
At the table with Alain Conrard is Jay Ramsanjhal, Chairman of DynamicsHUB, the Dutch community for Microsoft Dynamics users and partners. He agrees that he often sees projects fail because of insufficient attention paid to change management and cultural issues; and wonders what insights motivated Prodware to move from a technology driven company to this trusted advisor role that was formerly reserved for business consulting firms.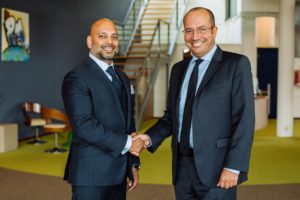 Alain Conrard explains: Organisations like Microsoft, Google or Amazon structure the market with their innovative solutions. Our position is different. We have to understand the big players' strategy and build a value proposition around it in line with the new market expectations.
Embracing the current digital revolution by becoming more agile and fostering innovation are the challenges that companies face today. It is crucial to stay relevant and profitable. However, to shape digital disruption, you need to work with organizations that experiment and are flexible and agile because failing could have a significant impact on business results. This is our job at Prodware and we do it every day. We help our customers to evolve, be more competitive and significantly increase their performance through the digital transformation. Our objective is to build a strategy with them based on the Microsoft technology. We know that all together, we will have a deep impact and will make a difference on the market.
"Agility is the key word here", summarises Ramsanjhal. Alain Conrard agrees: "Prodware understands the challenge. That is why a Business Consulting division was created in October 2015 at Prodware and we moved from being a technological player to a consulting firm with technology at the heart. We built this division from scratch with new types of consultants. Top level business oriented profiles who understand the market trends, the clients' expertise and expectations but are also able to deliver solutions quicker (within six months). This completely changes the way of doing business and give us a large advantage compared to traditional consulting firms.
Delivering promises
As the scope of projects is often becoming more complex, partners have to be much more accountable than in the past, to deliver on the promises made during the sales cycle. "This is where our Business Consulting division comes in", states Alain Conrard. "We are able to support and work with our customers at every step from the definition of the projects to the implementation. Our goal: reduce the timeframe and bring concrete results quicker. We ensure that all professionals involved on both sides are on the same track and fully aware of the business objectives and the scope of the project.
We can then identify potential weaknesses and readjust in real-time. Ramsanjhal adds: "Engaging customers early to take ownership of their project in a very low threshold way is spot on in this current day and age."
"Of course", answers Alain Conrad. "And if we don't take the position of an advisor and let our customers decide on their own, we increase the chance of missing the target", he continues. "We can always replace the ERP they have been using for years but what is our added value? Today, our customers are looking for expertise and best practices in their industry. We have to show them the best approach by analysing what is key and what is nice-to-have. We save them a lot of time.
From vision to support
Prodware's strategy is to become the undisputed leader in the mid-market and large accounts in our selected markets, by providing end-to-end high value information systems and services, to support customers' performance. According to Alain Conrard, Prodware helps their customers to have a better vision of their business, to build a roadmap, implement solutions and provide support services. Prodware is involved at all stages.
"That is a huge difference compared to the past. This new way of working means that we need to have strong alignment and commitment from both the business and technical decision-makers on the customer's side. The CEO is much more involved than before. The business decision-makers need to understand the immediate value of the solution. Whether it is to boost revenue, increase customer loyalty or reduce internal costs. Project KPIs can typically include increasing market share, expanding the business into new areas or have an impact on the shape of the back-office by reducing headcount by 10%. The CIO is the one who will eventually validate the options from a technical point of view. The relationship with the CEO is key.
Ramsanjhal replies with enthusiasm: "I see a lot of parallels here with our Digital Engagement model that we created to bridge the gap between the digital and business side within organisations. It's a transformation compass in which the first step is to help C-level people create a clear and shared vision. Because, if this isn't present then how do you know if you have the right people and culture to embrace this vision? Which is step two. After establishing which people and what culture is needed to realise the vision within the organisation, you start looking at the business processes. It's not until the final discovery stage that the use of IT is placed in context."
"Yes," says Alain Conrard. "IT has to support strategy. So we have to speak about vision and strategy first and then about IT. Our job is to have the right answer both in terms of expertise and in value added offerings to be able to fulfil the expectations that have been promised by the big players. As one of the largest Microsoft Dynamics partners in EMEA, we have to make sure that we can support our customers at all stages, from the definition of the project to the go-live and the utilisation of the final solution.
Our near-shore centres provide support 24/7/365. Our approach and methodologies are adapted to the needs of large companies with an international dimension thanks to our corporate organisation but also to mid-sized companies addressed in each Prodware countries.
Answering to need and expectation
Alain Conrard thinks that the momentum is quite good for full-stack Microsoft companies such as Prodware today. "EMEA is in good health. Microsoft is changing the market in a record time. They create excitement and expectations and we are here to give an answer."
The strategy Microsoft announced at Inspire in July 2017 is based on the following solutions and practice building blocks: Modern Workplace, Business Applications, Apps & Infrastructure and Data & Artificial Intelligence.
"These are all the areas that Prodware currently embraces", notes Ramsanjhal. "Indeed", Alain Conrard explains further: "Microsoft Dynamics 365 requires Dynamics NAV, AX and CRM skills plus infrastructure and connectivity with Azure.
We have been in this industry since 1989 and have more than 2,500 customers live on Dynamics NAV, AX and CRM to whom we also deliver infrastructure, managed services based on Azure and solutions such as Business Intelligence and Office 365. We believe it will be really hard for most of the Microsoft small specialist partners to survive in the future, because Microsoft is pushing hard to ensure partners can offer the full Microsoft stack to the end customer. That is why some of them have already been in touch with us. In 2016 we bought Nerea, a Microsoft CRM top player in Belgium and Luxembourg. As we were already the leader in Dynamics AX in Belgium, this acquisition consolidated our position in the market and our capacity to deliver the full Microsoft portfolio.
Key differentiator
"Dynamics 365 requires capacity to develop and provide apps for specific industries. We have a strong footprint there with an Innovation and Business Application division that develops on top of the Microsoft engineering backbone. The Prodware software development is a key differentiator. Midsized companies don't have the budget and time to create their own tailor made solutions. Today's challenge for each organisation is to have scalability and our business is to develop solutions that stick to the Microsoft solutions standard as much as possible. I believe that Microsoft's new partner strategy: 'Build With, Go-To-Market and Sell With' is the right one. Microsoft offers the best possible platform to build from and we do it with an MVP (Minimum Viable Product) to respond to our customers' urgent needs. Once the MVP is created, we can improve and develop, overtime, with the least disruptive updates.
Alain Conrard concludes: "There are not many organisations that can work as a business consulting company, a system integrator, an ISV, a managed services provider and have an EMEA presence that supports both local and international deployments. This gives Prodware great power to help companies understand and embrace digital technologies and transform their organisations."